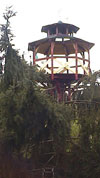 My treehouse on a pine tree
One night I slept with my son in his treehous. He has a marvelous bed his size. But I had to sleep on the narrow floor, my feets hanging out from the balcony. I therefore decided that I had to have a treehouse sufficiently big to host a couple of adults for the night. This is it. More ...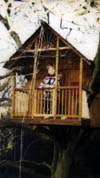 My son Auduns treehouse in a magnolia tree
This is a treehouse I have built for my youngest son Audun. Here he stands by the balcony gate a cold winter day. More ...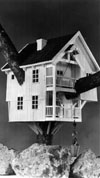 A treehouse model for kids
All kids are fascinated by treehouses, models or real scale. Every kid on visit wanted to play with the first model I built as a student (next). But as it was built in balsa wood, it quickly deteriorated and I had to put it aside. I therefore made a second model which was solid enough for kids to play. The roof can be lifted aside to let the kids play with dolls in it.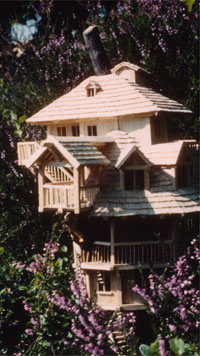 A treehouse model I built as a student
This treehouse was built when I was an arts student in Paris. The house is four floors high with staircases both inside and outside. The adantage of the model is that you are not limited by the size of the tree. More pictures will soon be available.